The IoT World Map for the buyers of IoT components recently published by IoT Now, in collaboration with Beecham Research, is pretty interesting.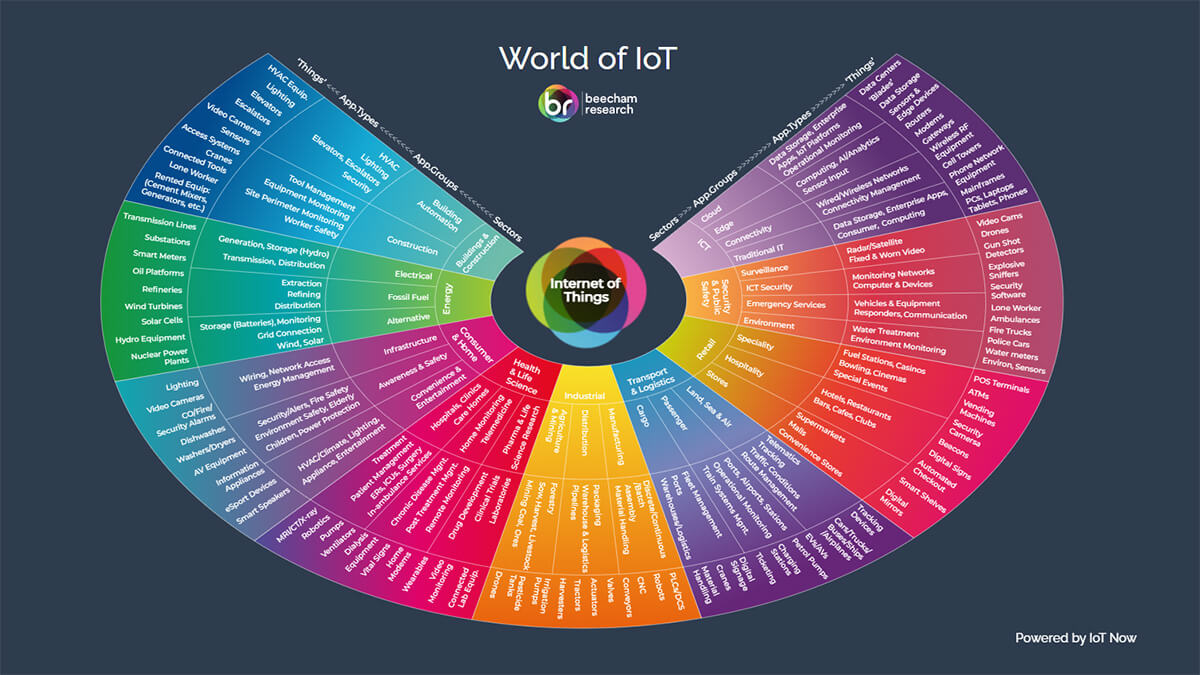 "Designed solely for IoT buyers, the IoT World Map allows users to view the entire IoT eco-system - mapped by sector, related technology, application and end items" and "find the right tech, app and end-thing providers for your business".
IoT analyst house, Beecham Research, has "mapped the tool from industry sectors where the IoT has been shown to deliver value, improvements and efficiencies to businesses". These sectors are:
Buildings & Construction
Energy
Consumer & Home
Health & Life Science
Industrial
Transport & Logistics
Retail
Security & Public Safety
ICT
The map looks at how IoT is used within each sector for example, building automation for the buildings and construction sector. And then the next layer digs down to App Types for example Lighting within Building Automation and finally, gets to the 'Things' which in this building scenario are the sensors used for Lighting Systems within Building Automation".
Telecom26's offering falls within the ICT sector and connectivity sub-sector of The IoT World Map
Global Connectivity and IoT
In a previous blog Global SIMs - why IoT devices should be shipped with them we discussed this article by Speedcast based on a report by Cisco which explains "Why IoT projects fail and what you can do to prevent it".
Reliable connectivity is key to the success of most IoT projects. And yet far too often IoT device manufacturers leave the connectivity component to the end-user or agency that deploys their device - and may well end up blaming the device rather than poor connectivity for project failure.
However, when a manufacturer decides to take greater control over the connectivity of its IoT devices, it faces another challenge - it may not know where its device will end up and, even if it knows the country and can partner with a particular MNO the device's connectivity is still at the mercy of one operator with unreliable bandwidth and patchy connectivity very real possibilities.
And again this will leave the owner of the IoT device left with the problem of juggling multiple SIMs across devices to find the strongest local network.
This where Telecom26 and our global eSIM and physical SIM cards come in.
Telecom26 - your partner for IoT connectivity
At the heart of Telecom26's IoT service are our global eSIMs and physical SIM cards. Just one of our SIMs in an IoT device:
Provides access to all of the networks covered by our global roaming service. That's 1100+ cellular networks belonging to 650+ mobile operators in 200+ countries.
Removes the need to worry about the coverage of a single MNO, or the existence of roaming alliances. Our SIMs automatically select the best performing network in the area, cross-border, while providing enterprises with the freedom to change SIM profiles and services with ease.
Can be customised with routing profiles built for each IoT device according to a customer's needs and budget. For example, for organisations that are more price sensitive we can ensure that our Global SIM cards automatically connect to the cheapest service in the area.
In a nutshell, Telecom26 enables data connectivity, anywhere - so that your IoT device can connect to the best available network, regardless of location.
You can read more about our IoT SIM service here.
And, if you'd like to find out how Telecom26 can help your organisation to embrace the benefits of IoT SIMs, IoT Networks, improve IoT connectivity and maximise IoT Security please contact us.