A few weeks ago our maritime connectivity experts announced that Telecom26 has partnered with Tampnet to expand our maritime cellular service.
Tampnet was founded in 2001 in Stavanger, Norway and operates the world's largest offshore high-capacity communication network providing the oil & gas, wind energy, maritime and carrier sectors with first-class telecommunications.
The use of Tampnet's 4G networks will enable Telecom26 to provide our nearshore customers with a faster, more reliable and more cost-effective maritime connectivity service where Tampnet operates in the North Sea. This agreement enables us to include this maritime connectivity at terrestrial rates in our Global Data Connect offering.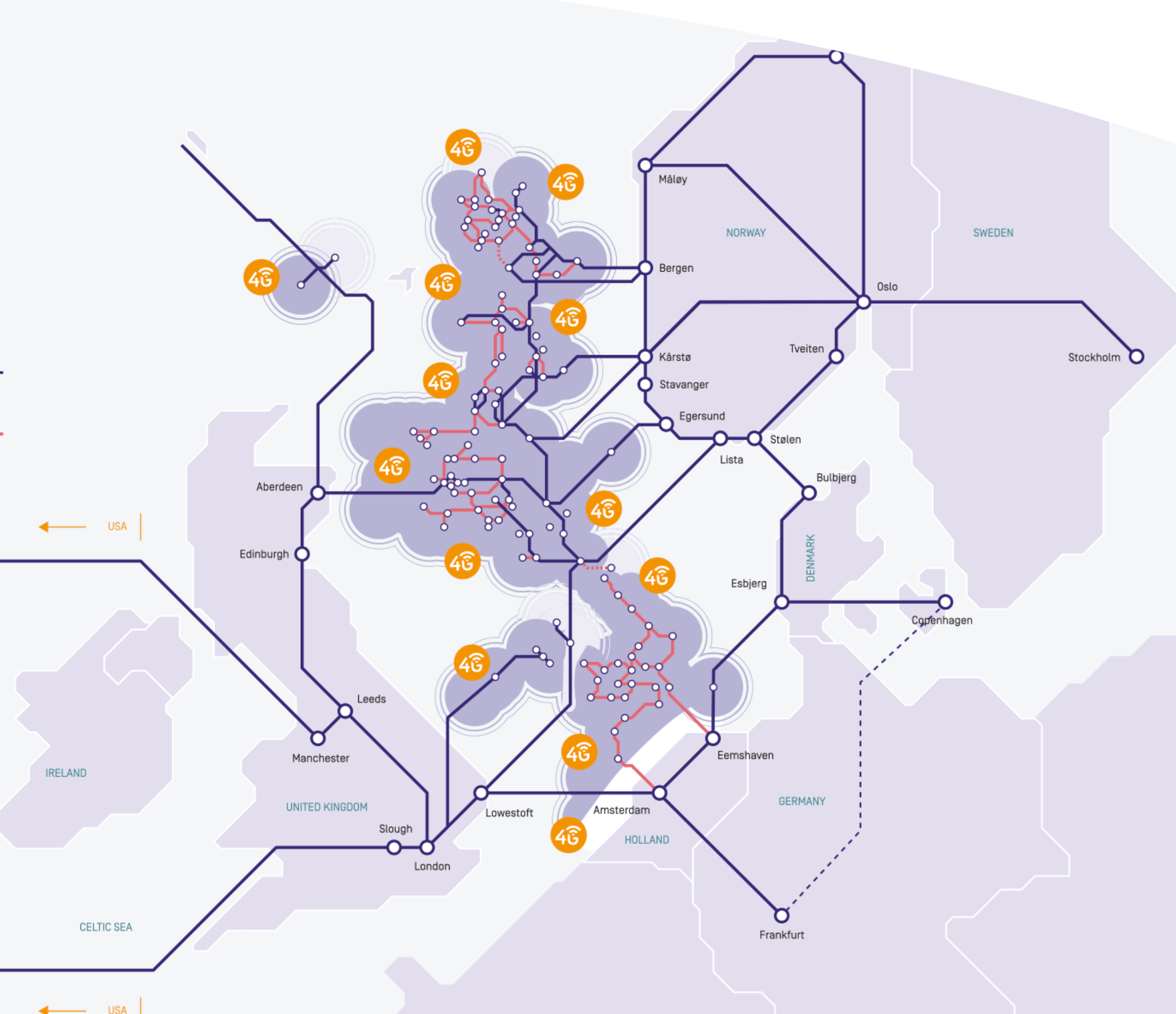 Telecom26's maritime connectivity services
Telecom26 is a full-service global maritime connectivity cellular operator. We offer bespoke maritime connectivity solutions that integrate inbound and outbound roaming, with full support of data services.
As a full member operator of the GSMA, we provide cross-border and international water services for ships, crews, passengers and devices.
As a global maritime cellular operator, Telecom26 offers bespoke maritime connectivity and marine communications services that integrate inbound and outbound roaming, with full support of data services. Our maritime connectivity services include:
A full Cellular At Sea service for vessels of all sizes
A Nearshore Maritime Connectivity Service which uses land-based cellular networks that reach up to 30km out to sea
A Maritime Connectivity IoT Service including private networks on-board vessels, oil rigs and platforms
We can also provide private networks at sea.
Using Private Networks to Provide Maritime Connectivity
At Telecom26 we've long been singing the praises of Mobile Private Networks at sea. Private networks are nothing new. They are essentially a closed network isolated from public view that is deployed in a specific location but still using 2, 3, 4 or 5G networks.
We firmly believe that vessels of all shapes and sizes should have their own mobile private networks (MPN) on-board in the same way businesses on land have private terrestrial networks over fibre, wireless or satellite on their business premises.
We build private networks that cover the footprint of a ship - no matter how huge - or other kind of vessel and provide:
4G (and future 5G) local radio coverage to ensure that connectivity is available
the SIMs or eSIMs to enable devices to connect
the ability to set-up Wi-Fi access, so you can create a local WAN.
Our SIMs or eSIMs enable devices to connect to the private network, but we also enable visiting ("roaming") SIMs to connect, at the discretion of the private network operator, and through the control that we offer from our core. If you want to allow roaming, you can. If you don't, it will be prohibited.
So, in our terms, the private network is self-contained, using dedicated radio access infrastructure, and powered by our mobile core, to which all permitted SIMs (and the devices that contain them) can connect. The interesting thing is that this can be literally anywhere – which brings us to….
Roaming Services for Passengers
For companies that are providing leisure or cruise services, private networks can be offered to passengers in two ways:
Firstly, passengers can be allowed to connect to the ship's private network as they would roam on any other network. In this case, they will be responsible for their own bills and would pay the roaming fees direct to their operator.
Or, a ship can sell its own Telecom26 SIMs with pre-defined packages and bundles, so passengers can use the ship's private network. This means that they will avoid the roaming charges of their home operators - and provides a new revenue stream for Cruise operators.
Global eSIMs and maritime connectivity
At the heart of Telecom26's maritime services are our Multi-IMSI global SIM cards that enable devices on-board moving vessels to automatically access and switch between multiple networks both in-country and across borders thus removing the need to worry about the coverage of a single MNO, or the existence of roaming alliances.
Our Global SIMs are compatible with 1100 cellular networks from over 650 mobile operators in more than 200 countries including now Tampnet.
We have also developed a multi-SIM router which enables connectivity to the best performing network available - cellular, wifi or satellite.
Our customers include enterprises, OEMS and NGOs who want a single delivery partner, cross-border solutions and network coverage that is secure, resilient and can be tailored to meet specific and evolving needs.
Telecom26 and your maritime connectivity needs
You can read more about our Cellular At Sea service here.
Our Nearshore Connectivity Service is discussed here and more information about our Maritime IoT service can be found here.
To speak with one of our maritime connectivity experts about how we can help improve your connectivity - using private networks amongst other things - whilst in-port, hugging the coast or cruising out at sea, please contact us here.