Two recent reports about IoT networks caught our eye from IoT World Today and the research company Omdia (created by the merger of the tier 1 analyst companies Ovum, Heavy Reading, Tractica and IHS Markit).
Omdia surveyed 365 enterprises across seven countries who are deploying, or in the process of rolling out, IoT solutions whilst IoT World Today talked to 429 people within enterprises.
The overall feeling about the future of IoT is optimistic as the technology matures and more projects are deployed within enterprises.
"As enterprise IoT projects deployments continue to grow, and confidence in the benefits of IoT projects, investment in the technology is also on the rise".
Omdia found that 38% of respondents believed their organization's IoT investment will exceed $1m in 2021, up from just 21% in the 2020 survey. Whilst IoT World Today recorded that majority of respondents (59%) anticipate an increased IoT budget in 2021 compared with 2020, while just 6% anticipating a decrease.
IoT is being more broadly applied across businesses than ever before. Omdia found that "more than 90% of the companies surveyed said that IoT was core to digital transformation or was being deployed across multiple areas in their organization".
IoT World Today interestingly found that "The No. 1 primary driver of anticipated increases in 2021 IoT budget is the fact that COVID heightened the need for digital initiatives".
Omdia found that enterprises have shorter expectations on ROI than in previous surveys with 41% of respondents expect to see measurable benefits within the first 12 months of deployment compared to 29% in the previous year.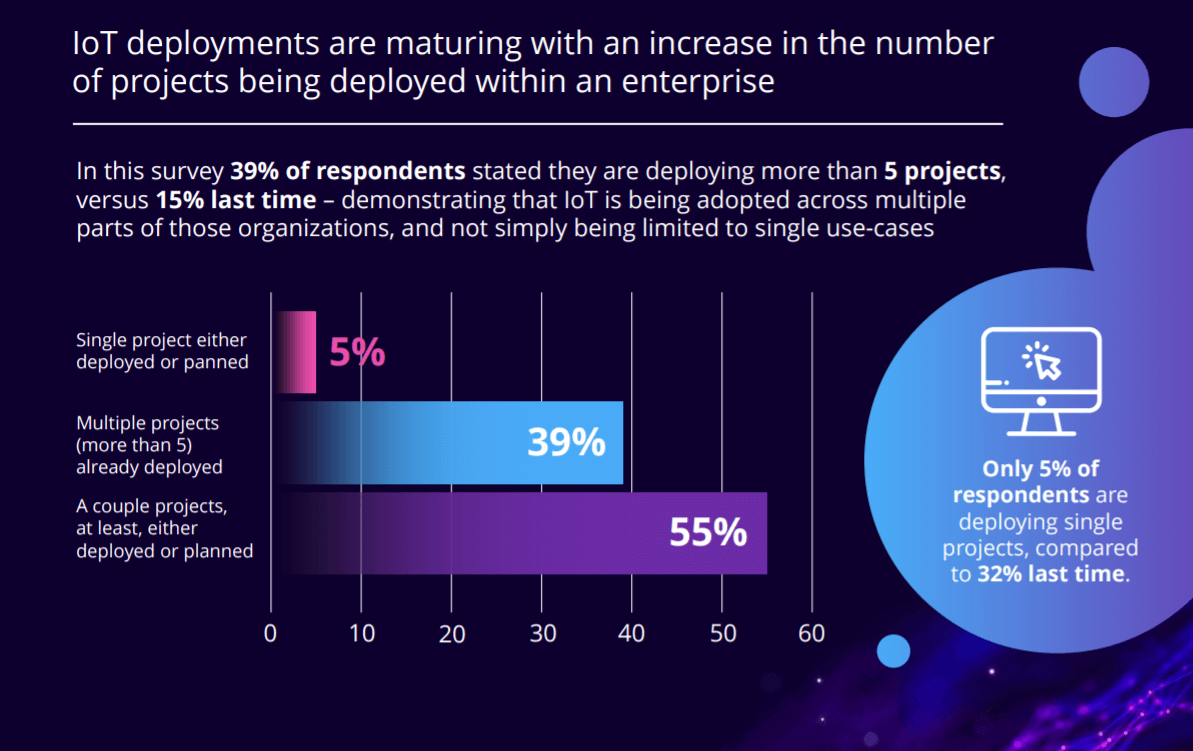 IoT Connectivity
IoT World Today reports that 33% of respondents see connectivity deployments as a hurdle to IoT projects - and that third-party expertise is often needed to implement the required network upgrades.
"IoT technology development is inherently complex. Partnering with a system integrator or another third-party can allow IoT developers to relieve at least some of the complexity associated with issues like which connectivity technology or cloud platform to use. Only a small number of organizations have the internal resources to build and develop a robust and secure IoT solution on their own."
Telecom26 and IoT Connectivity
At Telecom26 we are helping with the rollout of IoT networks across a range of vertical markets. You can read more in these previous blogs:
IoT SIM Card - One SIM, One Supplier, Multiple Networks For IoT devices
At the heart of Telecom26's IoT service are our global eSIMs and physical SIM cards. One of our SIMs in an IoT device provides access to all of the networks covered by our global roaming service. That's 1100 cellular networks belonging to 620 mobile operators in 220 countries.
Our global SIMs remove the need to worry about the coverage of a single MNO, or the existence of roaming alliances. They automatically select the best performing network in the area, cross-border, while providing enterprises with the freedom to change SIM profiles and services with ease.
We can also customise our offering, and build routing profiles for each IoT device according to a customer's needs and budget. For example, for organisations that are more price sensitive we can ensure that our IoT SIM cards automatically connect to the cheapest service in the area, rarely access expensive satellite links - and make the most of wifi for data-heavy up and downloads.
In a nutshell, Telecom26 enables data connectivity, anywhere - so that your IoT device can connect to the best available network, regardless of location.
We offer a full range of connectivity options including 5G, LTE, WiFi, private networks, 2G, 3G and 4G, as well as offshore connectivity capabilities.
So if you'd like to find out more about our IoT SIM cards and how Telecom26 can help improve IoT connectivity and the global connectivity service used by your device, then please contact us.
Better still. How about an IoT trial? Contact us here to chat about what you're looking for.