As an independent, global mobile operator with its own core network and operational assets, Telecom26 currently has more than 1100 network connections and relationships with over 650 mobile operators. These enable us to offer unrivalled global coverage on-land and on-sea.
To maintain and improve our coverage, Telecom26 is happy to have on board Pietro Cotino.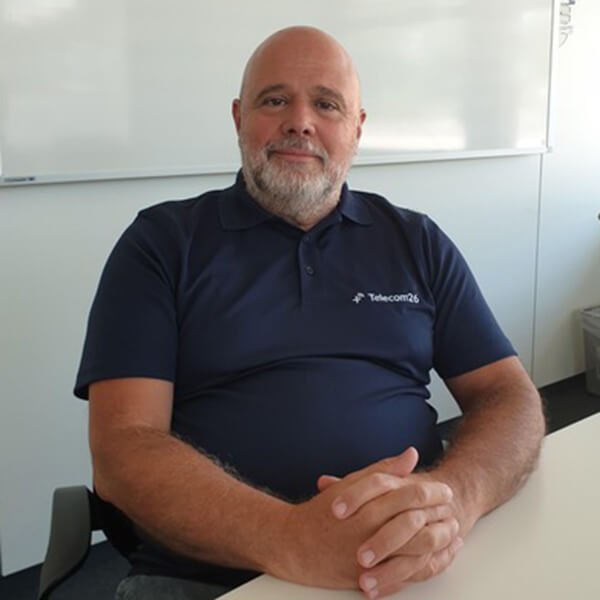 As the International Roaming Manager for Telecom26, Pietro is responsible for managing our wholesale contracts with operators across the world.
Pietro has been with Telecom26 for almost three years now bringing 30 years experience in the telecoms industry.
He joined us from Omantel in Oman and just before from H3G, which is owned by Hutchison Whampoa and provides cellular services across Italy, where he was also responsible for international roaming relationships, a role he also held at Vodafone Italy earlier on in his career.
Pietro was also COO at San Marino Telecom (brand name PRIMA) where he led the commercial, technical and interoperability departments. Prima was the first independent operator in San Marino.
Pietro is key to maintaining and building our relationships with operators across the world as Telecom26 continues to expand its capabilities.
Pietro is also working on our 5G and IoT roaming strategies. He recently attended Comfone's Connexion event where roaming experts from across the globe gathered to discuss the challenges and opportunities that 5G brings.
Earlier this year, following extensive testing of a number of 5G networks from operators around the world, we added 5G networks to our Global Roaming Service and you can read more about this here.
5G will be available to all our customers with the same pricing as our other services. However, we will be staying true to our mission of providing the best, and most suitable, connectivity for our customers, 5G or otherwise.
Pietro says that he joined Telecom26 as he hadn't worked for a Global SIM business before and he admires the company's innovative character.
For him one of the best things about working at Telecom26 is that it has the feeling of a family business where everyone's views and mental and physical well-being are important whilst at the same time being a fast-growing organisation with a global reach.
In his spare time Pietro likes to cook and eat good food!
Please contact Pietro at This email address is being protected from spambots. You need JavaScript enabled to view it. to discuss wholesale business opportunities or to know more about services offered by Telecom26.
Later in the year Telecom26 will be attending these major international trade fairs:
SMM
6-9 September
Hamburg, Germany
https://www.smm-hamburg.com/en/
Mets Trade
15- 17 November
Amsterdam
MEDICA 2022
14–17 November 2022
Düsseldorf, Germany
If you, or one of your team, will be at one of these events and would like to discuss our maritime connectivity and Global IoT Connectivity for Healthcae services in-person then please book a meeting.