Europe's cargo ports are booming, but as the volume of freight increases and demands for IoT tracking grows so too do calls for digital transformation that will create the next-generation of 'smart ports'. Find out what's happening – and how we're driving developments.
Europe's largest cargo ports are booming, according to the latest data from Eurostat, with Rotterdam once again the busiest port by a wide margin. The North Sea port saw 433, 293 tonnes of cargo pass through it in 2017, accounting for a whopping 9 per cent of the European total for the year.
Antwerp came second with 201,202 tonnes while Hamburg had the third highest volume with 118,761 tonnes. The statistics also show that Europe's 20 largest cargo ports accounted for close to 39 per cent of total tonnage, with 10 of the top 20 ports in 2017 located on the Mediterranean, eight on the North Sea coast, and the remaining two on the Atlantic coast.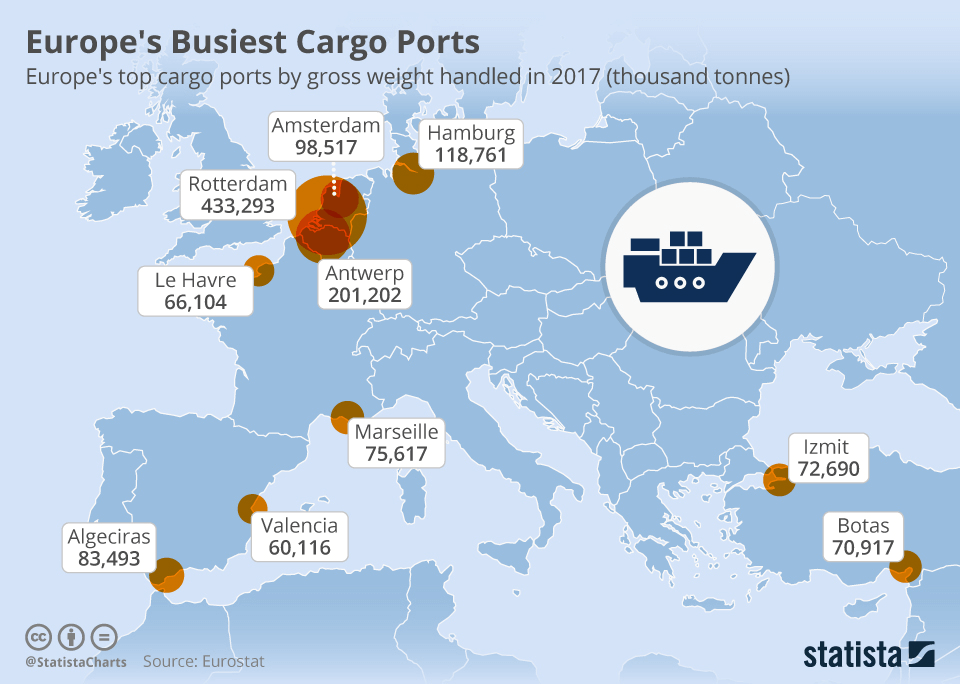 With such unprecedented activity and growth, of course, ports are being challenged to become smarter – so-called 'smart harbours' – in order to stay ahead of the competition. They are now under greater scrutiny, have to deal with larger ships, ever-increasing volumes of freight, and have to bring together the entire shipping and logistics supply chain ecosystem, as well as integrate with the commercial infrastructure of the local region… in an efficient and cost-effective way.
Of course, developing complex collaborative strategies and processes is a major part of that, but digital transformation will play an essential role. A smart harbour is a fully automated port, where all devices are connected via IoT using a network of smart sensors and actuators, wireless devices, and data centres to enable port authorities to provide essential services in a faster and more efficient manner.
And, technologies, such as Artificial intelligence (AI), the Internet of Things (IoT), Big Data and other more are set to drive this transition. They will help ports to become more intelligent in terms of flow, situation and customer management, and provide the ability to monitor and capture data, which can then be used to anticipate challenges and improve processes and decision-making further.
One promising new development is the addition of blockchain signatures to sensor data, to assist with processing by customs and immigration agencies. It will help them to review cargo data prior to entry to port, with appropriate redirection and certification.
Of course, robust security is also a priority. Not only do ports, and the towns they are located in, face security threats from theft and goods smuggling to people trafficking, they also require secure connectivity to protect sensitive commercial data from external threats, as well as from competitors in port.
This growing complexity – and the need to cater for future evolution – is another reason why there has been an upsurge of interest in dedicated, secure private networks. Ports are seen as an ideal candidate for such deployments, which provide a solution that can meet specialised needs.
Recently, the Port of Qingdao in China successfully trialled a 5G-powered 'smart harbour'. Qingdao is among the top 10 busiest ports in the world, processing approximately 19.3 million containers every year, and the six-month test showcased various 5G network capabilities, such as millisecond level end-to-end latency at Gbps level speed.
In Europe, meanwhile, ports such as Hamburg are leading the way. Hamburg operates more than 43km of quay, and handles around 9,000 ships per year. As Germany's largest, and Europe's third largest, port it deals with 7,300 logistics companies within the city limits and handled 118.8 million tons of cargo in 2017.
Hamburg recently implemented sensors, camera systems and smart lights on roads in order to monitor traffic, anticipate the lifting of bridges, clear accidents, facilitate the movement of barges when traffic is saturated, and so on, leading to a much more efficient and productive port.
Each of these sensors requires connectivity to transfer information. Given the sheer number of such sensors likely to be found in ports, combined with other, in-port public traffic, MNO networks may become overloaded, even with 5G. Moreover, public networks have additional security concerns, since they share the available capacity with other public traffic. Segmenting the port traffic onto a private network will provide control and dedicated capacity to provide secure and ultra-reliable services for business and security critical applications.
The German port also concluded successful trials to establish a blueprint for industrial 5G deployment, along with Deutsche Telekom and Nokia. The experiment proved that operators of public networks can serve the industrial space with private 'campus networks' hived-off from their everyday network setups. However, it is important to note that these trials were on public networks, with a controlled environment. To secure the observed benefits in practice, dedicated private networks will be required.
Of course, IoT will have a huge role to play too in the development of future smart harbours, and will require a broad range of connectivity technologies, including 5G, LTE, WiFi, RFID, private networks, offshore connectivity capabilities and blockchain, but recent trials (as outlined above) demonstrate that, much like smart cities, smart harbours are a genuine option and are already under development.
At Telecom26, we've been busy investing in dedicated technology to enable maritime and smart port solutions. We already offer a host of flexible global connectivity solutions for business critical and security critical applications, providing comprehensive, secure coverage, backed by a range of enhanced services that will help to drive the development of smart harbours.
In addition, we provide offshore and nearshore connectivity services for ferries, cruise liners, fishing vessels and more. We also enable private networks, both onshore – for ports – and offshore, to provide capacity onboard. Together with IP Access, we're building new solutions for 5G, which will deliver enhanced capacity and capabilities. Private networks can be seamlessly bridged with public networks, but with full control, enabling a cohesive but managed service to be delivered.
So, we're right at the leading edge of designing and enabling such solutions and understand the challenges that IoT and 5G coverage will bring – as well as the opportunities. Amidst all the excitement generated by 5G, it's important to note that we can already enable many of these services via LTE. Telecom26 offers a clear migration path from LTE to 5G, which means you don't need to wait to benefit from the latest innovations in maritime and smart port technology.