Providing high-quality and cost-effective Maritime Connectivity to vessels of all sizes wherever they are in the world is one of Telecom26's core services.
Our team of maritime experts have recently started an exciting new project which will give us even more insight into the maritime cellular connectivity and satellite needs of the shipping, cruising and leisure boat communities.
As part of this we will be tracking the journeys of vessels to which we provide connectivity - and monitoring which of our cellular and satellite networks they connect to, when and for how long, and what the data capacity used is.
Our theory is that for the most part, vessels hug the coast during a voyage, and that for around 80% of a journey connectivity from cellular networks is possible.
Tracking Vessels and their Maritime Connectivity Needs
To help track the journeys we have been looking at the various vessel monitoring systems.
According to Marine Insight, one of the largest online maritime training and educational platforms in the world, "the rapid advancement of technology has significantly improved the methods of monitoring and tracking the ships in the recent past… with the introduction of Google Earth revolutionizing the ship tracking process, allowing access to each and every detail of almost all ships within seconds... thus ensuring the safety of vessels from various threats".
Marine Insight cite Marine-Traffic as one of the most famous and widely used online ship tracking systems.
Take a look at Marine-Traffic's online map here which shows the locations and identities of all the major vessels around the world. Apparently Marine-Traffic records at least 800 million vessel positions as well as 18 million vessel and port-related events monthly and offers information about 650000 marine assets such as vessels, ports, and lights etc.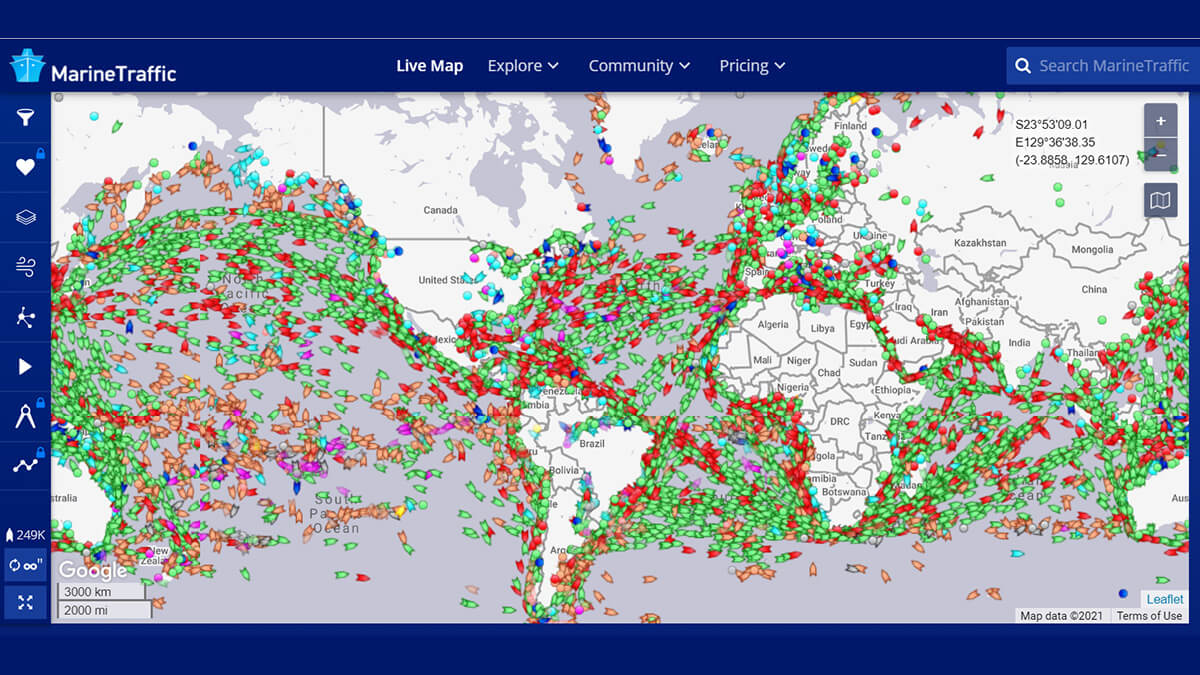 Amazing Stuff!
Telecom26 also tracks our connectivity enabled fleets and will be using Marine-Traffic to identify the vessels using Telecom26 for their marine connectivity needs. We will identify their most common routes and what their coverage requirements are. We will then use this information to help improve the service we offer - both in terms of capacity and pricing. Please watch this space for more information as the project progresses.
The Telecom26 Offshore Maritime Cellular Communications Offering
Telecom26 uses cellular coverage to provide maritime connectivity to vessels of all shapes and sizes complementing it with satellite where necessary.
We can fully customise our offering for digital services, and IoT device data management as well as P2P communication for crew and visitors, something that is often an afterthought for ship owners and operators.
Our star performers are:
Our global SIM cards (or eSIMs) enable access to multiple networks both in-country and across borders and remove the need for anyone to have to worry about the coverage of a single MNO, or the existence of roaming alliances. This means that when a vessel is within 12 nautical miles of the shore, our global SIMs can access multiple terrestrial cellular networks using 2G, 3G or 4G radio - and pick the most appropriate network according to voice and data needs, and the network's capabilities.
Our advanced router which enables data transfer to be optimised accessing terrestrial networks when in range and satellite while at sea. It controls data transmission and chooses the optimum route - based on application - to make better use of the available backhaul and connectivity options.
When a vessel is outside terrestrial coverage, we can provide a maritime network.
We offer a full range of connectivity options including 5G, LTE, WiFi, NB-IoT, private networks, 2G, 3G and 4G, as well as offshore connectivity capabilities. The Telecom26 offering can combine both a full mobile private network at sea as well as a nearshore offering in order to provide contiguous mobile coverage at the lowest cost available.
To learn more about Telecom26's suite of IoT maritime connectivity and maritime cellular communications services please get in touch.